Choosing An Architect Is An Important Step To Getting Your Bathroom Renovation Project Off The Ground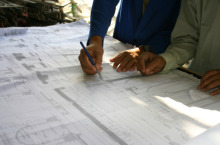 When you have a major renovation project, choosing an architect is a very prudent idea. Having a well thought out and structured plan is key to getting your job finished in a timely manner.
Here are some tips that will help pick the right architect.
* Architects usually charge more than bathroom designers because they are more versed in many areas of building expertise.
* A good architect should be able integrate the design and style of the bathroom
* Use the same process you use to hire a contractor when hiring an architect. Get references and go and visit some completed jobs. also check with the Better Business Bureau to check for complaints against the firm.
* Look for an architect whose style matches your taste
* Fees can be billed on an hourly basis or as a percentage of the project. Choose the billing method that best suits your budget